ALLOWAY TOWNSHIP
49 South Greenwich Street, Box 425, Alloway, NJ 08001
FAX
MAYOR - Joseph G. Fedora
TOWNSHIP COMMITTEE
Douglas Lore William "Rex" Cobb
CLERK/REGISTRAR, VITAL STATISTICS Mary Lou Rutherford


PLANNING SECRETARY/ZONING BOARD SECRETARY Nancy Merritt
SOLICITOR John G. Hoffman
ASSESSOR Donna Harris
TAX COLLECTOR Thomas Freeman
CHIEF FINANCIAL OFFICER & TOWNSHIP TREASURER James Hackett
ENGINEER Carl R. Gaskill
JUDGE David E. Krell
COURT ADMINISTRATOR Maureen L. Belum
FIRE CHIEF Jeffery Pompper /5271
BUILDING INSPECTOR CONSTRUCTION OFFICIAL:
Harold Underwood
SALEM COUNTY HEALTH OFFICER
AUDITOR Nick Petroni
DOG WARDEN E.H.Shimp Jr.
DOG REGISTRAR Mary Low Rutherford
EMERGENCY MGMT.COORDINATOR:
Jeffery Pompper /5271
BOSTWICK LAKE COMMISSIONER Donald Scheese
HOUSING & ZONING OFFICER Walter Leslie
COURT PROSECUTOR George G. Rosenberger, Jr.
PUBLIC DEFENDER Craig W. Kugler
TOWNSHIP HISTORIAN Margaret Matthews
Township Committee meets 2nd Thursday of each month
at 7:00 p.m. in Municipal Building, Alloway
Planning Board meets 2nd Wednesday of each month
at 7:30 p.m. in Municipal Building, Alloway
Zoning Board Meets 1st Monday of each Month
at 7:30 p.m. in Municipal Building, Alloway
Alloway Township Veterans Assn, Mowers Stations Rd., Alloway, NJ 08001. Telephone
Interesting Alloway Fact: Caspar Wistar, 1696 - 1752.
Glass manufacturer; born near Heidelberg, Germany. He created a window
and bottle glassmaking factory in West Jersey in 1740. It was the
earliest successful workers' co-operative venture in the colonies. (source: www.biography.com)
Wistarburgh web site: www.wistarburg.org/
Interesting Alloway Fact: In Salem County, NJ, the distinction of owning the first automobile went to Horace Vanleer of Alloway, as reported in the Salem Standard & Jerseyman of the day (2-7-1900). The make was not noted, but "the carriage" came with an "operator" from a factory in Cleveland, OH.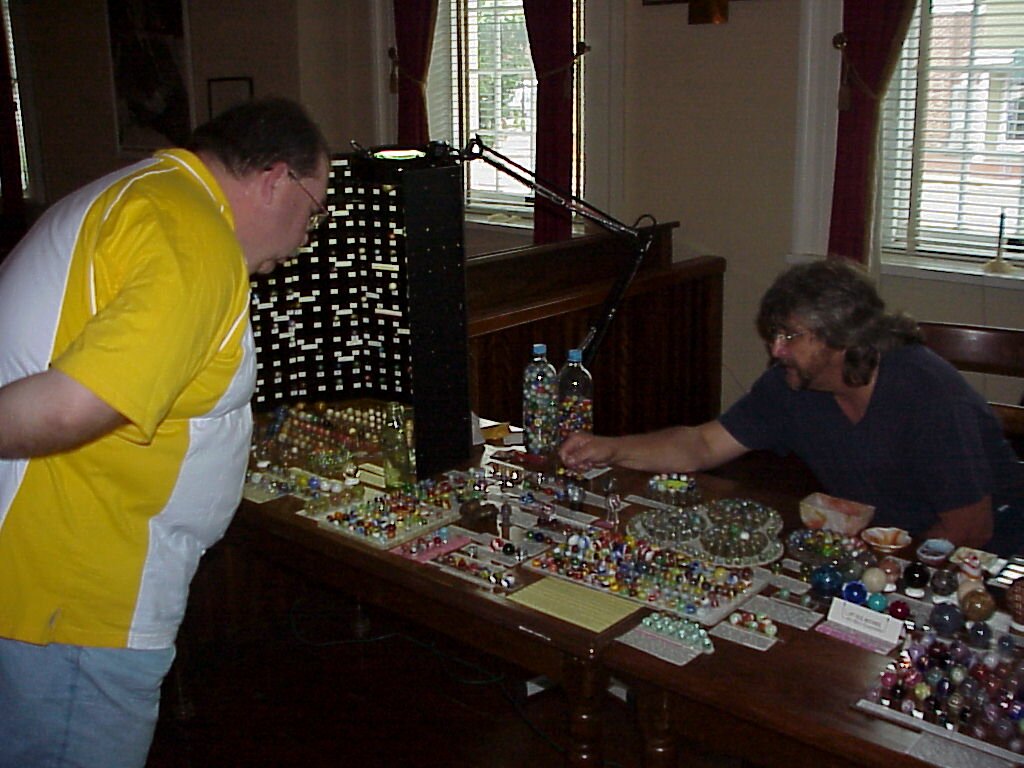 Resident Pat Jamison is president of the South Jersey Marble Collectors Club, PO Box 61, Alloway, NJ 08001
Updated 3/15/2005