Article Courtesy Today's Sunbeam
Antiques Festival headlines busy day for local residents
Sunday, June 01, 2003
By REBECCA PURCHASE, Staff Writer
SALEM -- "It's fantastic."
That's what Ye Olde Fireside Coffee Shoppe owner Linda Munoz said about Saturday's Antiques Festival in Salem. "The rain held off and we have a full house. I am full of excitement."
The sky was cloudy and a few raindrops fell now and then but not enough to dampen the enthusiasm of those enjoying the sights and sounds of historic Salem.
Salem City and Salem County officials used the event to official open a Salem County Visitor Center in the restored 1889 Salem City Municipal Building on New Market Street.


From right, Freeholder Deputy Director Chuck Sullivan, Freeholder Director Jack Kugler, Freeholder Bruce Bobbitt, Salem City Council President Bob Johnson and County Economic Development Director Jim Waddington cut the ribbon opening the interim County Tourism Center.
City Council President Robert Johnson and Freeholder Director Jack Kugler cut the ribbon along with Deputy Freeholder Director Chuck Sullivan and City Councilman and county Director of Economic Development Jim Waddington.
"This is a joint effort that combines the strengths of both the city and the county," said Sullivan. Jim Waddington developed that arrangement as a first step to a more permanent county visitor's center. The county plans to restore the Robert Gibbon Johnson House that sits on Market Street next to the county courthouse. The house was built in 1806. Johnson did much to develop and promote the city and county. Waddington and others believe restored it will be the ideal place to welcome visitors to Salem County.
"We felt having a county visitor's center was just too important to wait," Waddington said of the temporary quarters.
Johnson called the municipal building "a jewel we're proud to show off."
For another piece of Salem history the day marked a homecoming.
The cannon that sat in front of the Old Courthouse was back after having its carriage rebuilt by Jay Williams of Daretown. To celebrate its return it was fired off to open the festival. Even those who did not see the firing heard it happen.
"We're really appreciative of his time and his skill for the people of Salem County," said Kugler of Williams' great work on the cannon.

County Freeholders and staff gather before the rededication of the cannon.

Mr. Jay Williams, who restored the cannon carriage, prepares the cannon for firing as Freeholder Director Jack Kugler (right) and Freeholder Bruce Bobbitt look on.

Kaboom!
One of the more unique vendors was housed in the Old Courthouse. Pat Jamison, president, and Joe Brauner, secretary, of the South Jersey Marble Collectors Club advertised appraisals of marbles.
Even if you didn't bring any marbles, you could learn a lot about the history, makeup and game of marbles. Who knew that the Egyptians played marbles or that Thomas Jefferson was very fond of the game?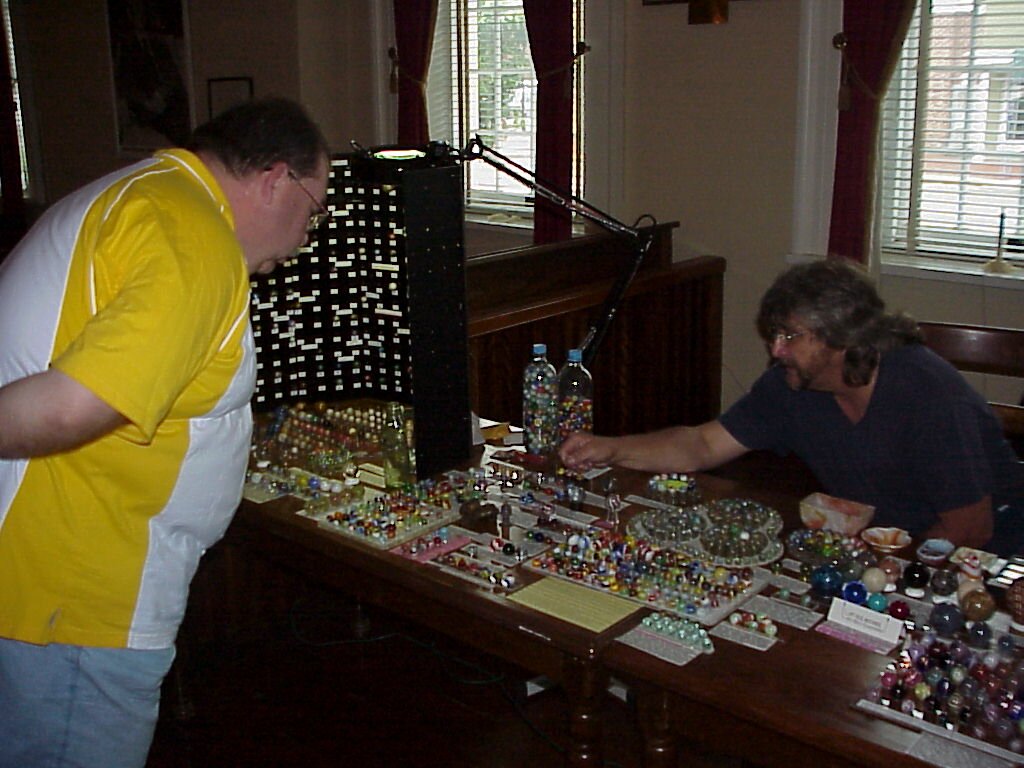 The Antiques Festival was designed to bring in new customers to the local antiques shops and get people to come and enjoy Salem. There did seem to be a number of first time visitors and many seemed to be delighted at the treasures they secured on their visit. But there was another equally important aspect to the day. After what was a pretty hard winter by Salem standards, "locals" seemed to be really enjoying having an excuse to get out and share some history and fun with their neighbors.
At the original Union Fire Company building on Broadway Donald May and Jim Parris enjoyed reminiscing over photographs that will be displayed at what they hope will soon be Salem's Fire Museum.
May who said he has been a member of the fire company for 54 years, joked that Parris was in the original company. Parris joined the company in 1938 and except for time off for his tour of duty during World War II, he has been active with the company ever since. All the members of the city's fire companies are working together to restore the building and save the stories of the people who volunteered their time and risked their lives for their neighbors.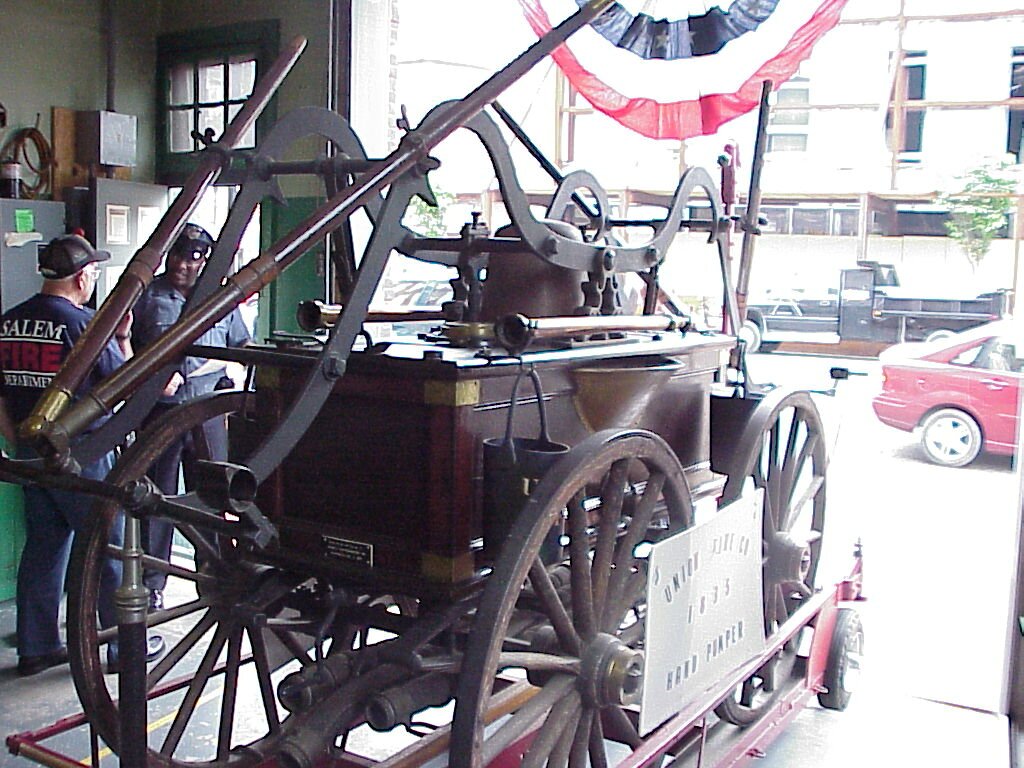 It looks like Linda Munoz was right. The day was fantastic. Sharing some old history seems to be giving Salem City some new beginnings.