ANTIQUE, CRAFT AND GARDEN SHOPS of SALEM COUNTY
ALLOWAY TOWNSHIP
A Country Hart
136 Waterworks Road, Alloway

Alloway Pottery
76 North Greenwich Street, Alloway
(also fax #)
Hand thrown originals, by appointment.
Country Treasures
37 N. Greenwich. Alloway
Tues.-Fri. 12-5:30, Sat. 10-4:30 & Sun. noon-4
Tin ware, locally hand made candles & farmhouse collectibles
Deb's Decorating
Dianna's Leather
Dorrells Antiques
12 Lambert Road, Alloway
Antiques & collectibles
Hearthside Primitives & Antiques
3 South Greenwich Street (Rt. 540), Alloway
Wednesday, Friday, Saturday, Sunday 10-5 Thursday 12-5
Benches, chairs, wash stands, cupboards, trunks along with primitive accents such as hand-forged iron, hand made quilts, grunge baskets, pottery, pewter, tinware, redware, candles
Little Dresden-Retired Longaberger
Maureen's Craft and Christmas Shoppe
Natalie's Turquoise Treasures
Seven Hearths Antiques
34 N Greenwich, Alloway
Antiques & collectibles
Visions
31 S. Greenwich, Alloway


CARNEYS POINT TOWNSHIP
"In Nonnies Attic"
201 N. Virginia Ave., Carneys Point
(also fax #)
Mon.-Tues.-Thus. 10-6; Wed. & Fri. 10-9, Sat. 9-6
Old Virginia candles, berry garlands, flags, American primitives, Folk Art by "David", Victorian and seasonal décor
ELMER BOROUGH
A-Round The Square Picture Framing
150 S. Main Street, Elmer

Mon.-Fri. 10-2; all other hours by appointment
Custom picture and print framing
A Cheerful Giver
300 Front Street, Elmer
(fax)
Mon.-Sat. 10-5
Gift baskets, candles, bath & beauty products
Curiosity Corner
50 Broad Street, Elmer
(Fax)
Mon.-Fri. 8-5 & Sat. 10-5
American Chestnut, Boyds Bears, country primitives, handcrafts, candles and collectibles
The Main Street Peddler
1 So. Main Street, Elmer

Timely Treasures Florist & Gifts
W. Front Street, Elmer
Mon.-Sat. 9-5
Cards, balloons, baskets, stuffed animals, crafts, fresh & silk flowers + candles
The Tin Roof Candle & Craft Mfg.
55 State Street, Elmer
(fax)
Mon.-Wed.-Fri. 9-3; Sat. 9-5
Silk flowers, wreaths, manufacture of candles and country crafts, tin lamps and country accessories
LOWER ALLOWAYS CREEK TOWNSHIP
Caroles Creations
34 Pecks Corner Road, Harmersville, Salem
Paintings, wooden items, decorations and ornaments
Garden State Aquatic Nursery
335 Quinton-Hancock's Bridge Road, Salem
Open April through October, Thurs-Sat 10AM-6PM, Sun 1PM-6PM
Aquatic plants, ponds, fish food, pumps, spitters, crafts gifts and more.
MANNINGTON TOWNSHIP
Li'l Bit of Everything
141 Salem Woodstown Road, Salem
Wed-Sat 10AM-5PM, Sun 12PM-4PM
OLDMANS TOWNSHIP
ETC Shoppe
E Mill Road & Railroad Ave., Pedricktown

Tues., Wed. & Sat. 11-5; Thurs.-Fri. 11-7
Unpainted furniture, home ware, gifts and collectibles
www.etcshop.net Email:
Heart Felt Designs Country Shop
Pedricktown-Woodstown Road, Pedricktown

Mon., Tues., Wed. & Fri. 10-5; Thurs. 10-8, Sat. 10-5 & Sun. by appointment
Byers Carolers, Yankee candles, Lange candles, pottery, lights, primitive crafts and furniture
www.heartfeltdesigns.net
High Hope Greenhouse & Florist
230 Pennsville Pedricktown Road, Pedricktown

Fruit baskets, candles, flowers and gifts
PENNS GROVE BOROUGH
Garden of Eden Flower Shop
21 South Broad Street, Penns Grove
(fax)
Flowers, plants, gift baskets and collectibles
PENNSVILLE TOWNSHIP
Cracker Barrel, Old Country Store
428 North Broadway, Pennsville

Gifts and collectibles
Costellos Christmas & Home Shoppe
Norwood Street, Deepwater

Demdaco angels, nutcrackers, German glass ornaments, potpourri, candles & sachets
Rugs & flags & more
Country Peddler
104 N. Hook Road, Pennsville

Antiques & collectibles
Dads Produce & Moms Crafts
438 S. Broadway, Pennsville

Seasonal Candles, Cemetery cones, crosses, wood furniture, and holiday decorations
Flowers by Ford
Rte. 49, Pennsville and Salem
or
Hallmark ornaments, flowers, plants, gifts and collectibles
Glass Delights by Pris
8 Isaacs Drive, Pennsville
By appointment
Custom windows, stained glass panels, lamps, supplies for artisan & a great selection of glass.
Grannys Country Candles
936 B South Broadway, Pennsville

Tues. Thurs. Fri. & Sat. 11am-5:30pm; Wed. 11am-7pm & Sun. 12-5pm
Locally hand made candles, hundreds of scents

Graystone Corner Antiques
located in Allegro Studio, 87 N. Broadway, Pennsville
/6500
Antiques, collectibles, & need "fool" things
Holly Tree Antiques
101 William Penn Avenue, Pennsville

Wed & Sat 1-5 & Fri, 7-9pm; other hours by appointment
Cards, gifts & general merchandise; specializing in cut and pattern glass, china, pottery, woodenware and collectibles
www.hollytreeantiques.com
McKinleys Gallery
54 Main Street, Pennsville

Wed.-Thurs. 6-8, Fri. 11-4 & 6-8, Sat. 11-5
Gifts and collectibles
PILESGROVE TOWNSHIP
BJ & The Bear Country Store
1101 Kings Highway (Corner of Rte. 40), Sharptown

Mon-Tues 9:30-5, Fri-Sat 9:30-6 & Sun 11-4:30
Lee Middleton Dolls, Light candles, Gooseberry cookbooks,, holiday stoneware pie plates, etc.
Imagine Studio & Gallery
1203 Rt. 40, Pilesgrove

Fine Art, Glass, Gift Items
Indian Run Greenhouse
433 Lincoln Road, Pilesgrove

Fresh flowers, garden plants and accessories
La Rosa Greenhouses
Old Kings Highway, Woodstown

Manor Antiques & Gifts
Corner Rte. 40 & Kings Highway, Sharptown
PITTSGROVE TOWNSHIP
A Whole New Light
328 Rte. 40, Pittsgrove

Tues.-Fri. 11-4; Sat. 10-5
Country gift and accessory store
www.awholenewlight.com
George Hawriluk
Buck Road, Elmer

Antiques & collectibles
QUINTON TOWNSHIP
Bradways Farm Market
Rte. 49 & Jericho Road, Quinton
or
Daily 9-8
Fresh greens, fruit baskets, crafts & gifts
Butler Gardens
584 Salem-Quinton Road, Salem

Mon-Fri 9-7, Sat-Sun 9am-5pm
Fresh flowers, garden plantings, decorations & accessories
Major credit cards accepted
Cawmans Mall Antiques & Things
529 Salem-Quinton Road (Rt. 49), Salem

Tues-Thurs 10-5; Fri. 10-7; Sat 10-5 & Sun 11-4
Candles, giftware, baskets antique tools, crafts, furniture & much more
Marlboro Farm Market
Route 49, 3 miles west of Shiloh

Open daily 9am-6pm
Fresh produce, flowers, garden accessories &decorations
SALEM CITY
First Colony Antiques of Salem County
168 E. Broadway, Salem
/339-4002
Wed.-Sun. 10-4
Furniture, paintings, rugs, and china; assorted time periods
Arts of Down Jersey
73 Market Street, Salem

Art dealer, gallery & consultant
The Clock Shop
Antique clocks sales & repairs
15 Market Street, Salem

House calls by appointment
Specialist in Grandfather clock restoration and antique clock repair
Debbies Country Saltbox



18 Market Street, Salem

Mon-Fri 10-5; Sat 10-4
Yankee & Lang candles, pottery, baskets, textiles and Johnston Benchworks furniture
Visa & Master card accepted
Market Street Treasures
36 Market Street, Salem

Wed.-Sat. 10-5; Sun. noon-4
Antiques, collectibles, craft gallery, over 65 dealers
The Rooster Crows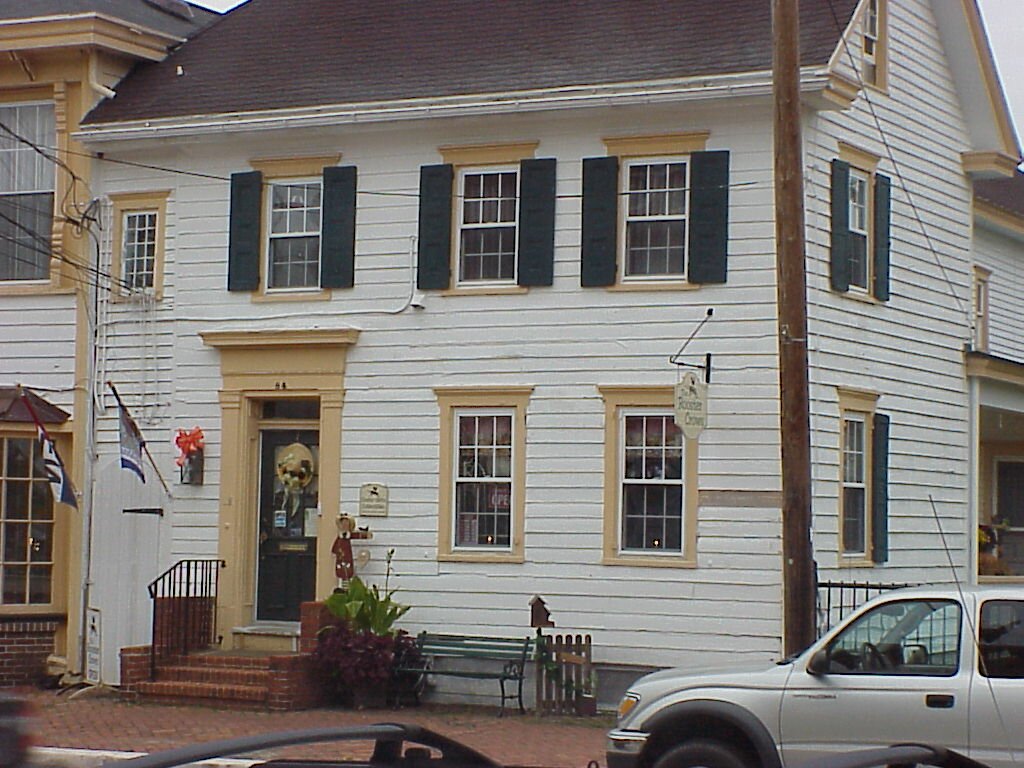 84 Market Street, Salem

Tues.-Fri. 10-5; Sat. 10-4
Featuring gifts, crafts & country collectibles
The Royal Port Antiques



Suzanne & Michael Cooke
13 Market Street, Salem

Wed-Sat 10-5 and Sun 11-5
www.royalport.com
Shop is 12,000 square feet specializing in Early American Country Furniture and accessories.
Salem Oak Antiques and Captain Dog Collectibles
107A West Broadway (Rt.49), Salem

Wednesday-Saturday 10AM-5PM, Sunday 12PM-4PM
Primitive to Shabby Chic and Everything-in-Between
Visa & Master card gladly accepted
UPPER PITTSGROVE TOWNSHIP
Americana Shoppe
Rte 40, Elmer

Mon Sat 10 5 & Sun 11-5
Lawrence reproduction Windsor chairs, Turtlecreek Red ware, Midwest import merchandise and collectibles.
WOODSTOWN BOROUGH
Cross Roads Antiques
2 S. Main Street, Woodstown

Mon.-Fri. 10-5 & Sat. 10-2
Antiques & collectibles
Gardens at Woodstown
Rte 40 & 45, 300 West Ave., Woodstown

Seasonal Plants, gifts, garden accessories and collectibles
The Gingerbread House
8 West Avenue, Woodstown

Tues-Sat 10-4
Americana, Birdhouses, Berries, Country Crocks, Rusty Tin, Primitives, Quilts, Candies
Leightons Olde Towne Shoppe
329 S. Main Street, Woodstown

Mon.-Thurs. 10-5, Fri. 10-8, Sat. 10-6
Historically inspired furnishings, accessories & gifts
Pieceful Stitches, A Quilt Shop
4 South Main Street, Woodstown

Quilts and gifts
Pisces Gallery
136 S. Main Street, Woodstown

Art dealer, gallery & consultant
Scarecrow Factory
25 East Avenue Rt. 40, Woodstown

Mon., Tues & Wed. 10-6; Thurs. & Fri. 10-7, Sat. 10-6
Boyd & Gund bears, candles, cards, table linens, heritage lace, Ty beanies, and lots more
Taylors Florist
24 S. Main Street, Woodstown
(fax)
Wholesale & retail flowers and plants, gifts and accessories
updated 9/24/2004